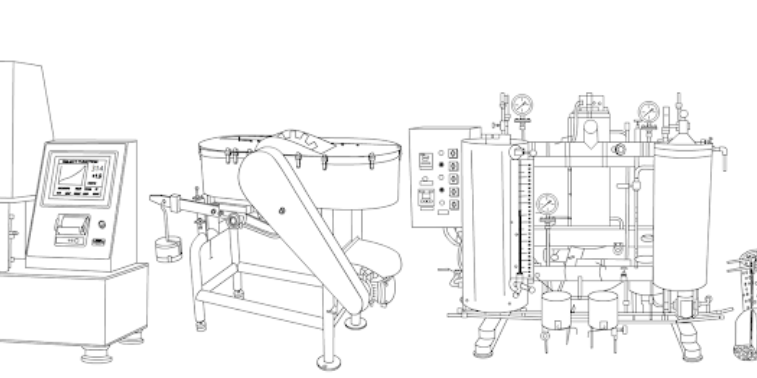 There is no industry in the world that doesn't prioritize quality control. Hence, how could the paper and packaging industry stay behind in this aspect? After all, people from across the world use many million tons of paper every year. And, this is why paper manufacturers invest in numerous paper and packaging testing instruments so that optimum quality paper, regardless of the usage, could be delivered to the end users.
Among the many tests that manufacturers conduct, GSM testing is a significant evaluation. To ensure the quality of paper and its products, manufacturers need to regularly calculate their weight and thickness. This is where the GSM calculation and investment into the Digital GSM testing machine come into the picture. Let us understand what GSM is and how its measurement plays a crucial role in the quality control of the paper and its products.
What is GSM?
GSM refers to Grams per Square Meter. It is a unit/parameter for measuring the basis weight of paper/packaging board. So, if a paper has more thickness, it'll suggest a higher GSM and vice versa.
GSM also proposes the strength and development characteristics of materials. The GSM of different materials is distinctive, and hence the meaning of GSM is different for varied materials. Let us understand the significance of GSM of the most used paper products.
As we mentioned in the beginning also, paper is used by everybody, in varied forms and sizes. Be it businesses, workplaces, or schools, the usage is continuous. In fact, it is the primary asset for the printing businesses. With such vital applications and versatile usage, manufacturers must ensure that they are delivering a paper with the expected characteristics for different businesses.
GSM, being a significant parameter of the paper's characteristics and attributes, helps manufacturers make crucial business decisions. These include establishing the cost of diverse papers, their usages, readiness, etc.
GSM of a Paper Board or Cardboard
Just like paper, paperboard, or cardboard is another commonly used material among businesses. From packaging businesses to schools, craft institutions, cylinder making, roll making, etc. cardboard has a versatile market.
Cardboards are used with reused papers or old cardboard papers. In order to ensure their quality, manufacturers need to test their strength, durability, and steadfastness. Therefore, they perform various tests on boards, and evaluating GSM is among those tests. Just like GSM evaluation is effective in determining the quality of paper, it is for the paperboard also.
GSM of a Corrugated Sheet
A corrugated sheet is developed using plain and fluted paper and is used to build paper and board boxes. The purpose of using fluting in a corrugated sheet is to provide extra strength to the paper and hence the resulting box.
Corrugated boxes are used by most e-commerce businesses for packaging and shipping their products. They are relied upon for their strength and security, which is determined by examining GSM, in addition to bursting strength, compression strength, etc. Manufacturers do it by using varied testing machines such as a bursting strength tester, GSM tester, box compression tester, etc.
As a result, they become able to guarantee that they have provided the corrugated sheet of appropriate strength and quality for the designated use.
What is GSM Calculation Significant?
Measuring GSM is crucial, as every material is different and for each distinctive use, a material of varied thickness is required. For instance, cardboard is different from standard paper. It is used for purposes where standard paper could not be used, such as for postcards, business cards, etc. Hence, it needs to be much thicker and stronger than the basic paper.
Moreover, a paper's GSM/thickness and density also determine its printing properties, with printability, stiffness, and runnability being the most crucial. Hence, when tested using a digital GSM testing machine, it will tell manufacturers if the paper is suitable for a specific printing process or end application.
How To Calculate GSM?
We have read that GSM calculation is vital to know the strength and quality of the paper, hence the process and mechanism should be accurate and highly effective. UEC's Digital GSM testing machine makes this possible with extraordinary accuracy. Let us see how this testing machine works.
Digital GSM testing machine
The digital GSM tester by UEC is portable equipment that comes in a Basket/

Pan

model.

It weighs approximately 3 Kilograms and comes in the size of 19.5x22.0x46.5 cm.

It measures the basis weight or GSM of paper, newsprint, writing or copier paper, duplex paper, art paper, Kraft liner or fluting paper, corrugated fiberboard, and tissue material.

The equipment provides a measuring range from zero to 1500 GSM for samples of sizes 10x10 cm and 20x25 cm and a preciseness of 0.1 GSM.

It comes with an auto-zero adjustment feature.

To perform the test, the operator places the specimen in the measuring basket

on the Pan.

The specimen is prepared by cutting the paper sheet into the required dimensions. Opt for the UEC

sample cutter

for this purpose.

Once the GSM is calculated, the reading gets displayed on the LED screen.
Final Thoughts
So, this was all about the importance of GSM calculation with regard to paper manufacturing. UEC is among the best manufacturer of pulp, paper, and packaging testing instruments. If you're a paper manufacturing business looking to invest in high-accuracy and cost-effective paper testing machines, get in touch with us. Visit the website to explore the wide range of texting machines and also opt for demos before making a purchase.